Starts in 2 Days, 20 Hours
June 5, 2023 7:00 am
Dare2tri is currently meeting for virtual cycling workouts for all athletes and volunteers that have their own indoor cycling equipment.
About this Event
Dare2tri is currently meeting for virtual cycling practices for athletes and volunteers looking to ride "with a group" through the Zwift platform. In these 60 minute sessions, we will be conducting one structured ride and one fun casual no drop ride. It is imperative you have an indoor bike trainer (smart trainer or cadence/speed sensor with blue-tooth for a standard trainer) in order to participate on Zwift. If you have an indoor bike trainer setup but do not have Zwift, feel free to join us for the rides just know you won't be on the same platform but you will be with us in spirit.
Zwift App For Iphone Zwift App For Android Bike Setup: Indoor Setup Guide
Volunteers will not be helping the athletes directly, as you will be at home, we encourage you to join us and interact with our athletes.
The rides will be lead by Coach Shawna and Coach Dan along with Assistant Coaches. The Monday ride is a structured workout session. The Friday ride is a casual fun ride. Both workouts last approximately 60 minutes and are conducted through the Zwift Indoor Cycling Platform. Live video calling through Zoom is also integrated so we can interact with each other. A link to join Zoom will be emailed to you the night before your session. Please join the Zwift/Zoom group at least 5 minutes ahead of the session to make sure you are ready to start on time, group will start right on time and there will be no late adds.
Riders Will Need: 1. A Smart bike trainer (i.e. Wahoo, TacX, etc.) or 2. Standard bike trainer with a speed sensor that will communicate with your Zwift app 3. Zwift Companion App Downloaded to smart phone to join the meetup.
*Note that Zwift does have a current monthly fee of $14.99 that is the responsibility of the participant. A 7-day free trial is available.
If you do not receive an email with the Zoom link, please reach out to Dan Tun, dan@dare2tri.org.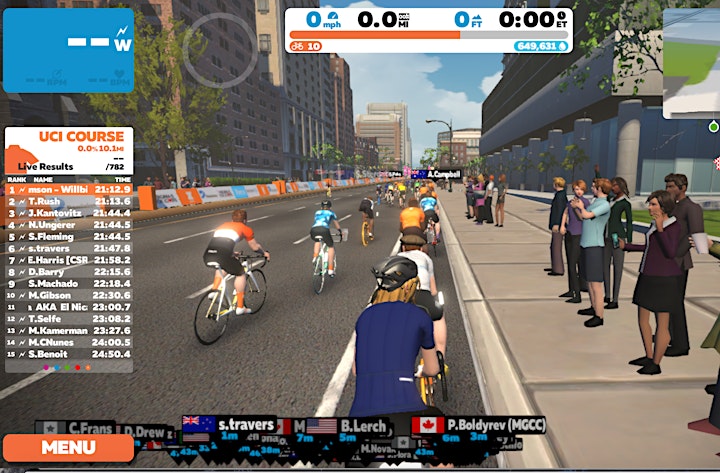 Click below to register for this event and pick a date.